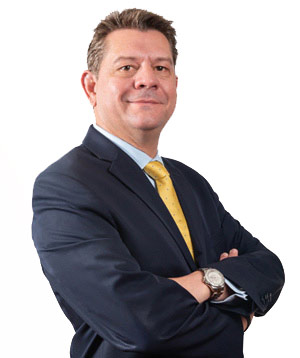 Partner/President/CEO
Phone: +1 (856) 288-2403
jclark@clarkfoxlaw.com

Legal Administrative Assistant
Shelley Crudele
Phone: +1 (856) 288-2406
scrudele@clarkfoxlaw.com
Paralegal
Stacy L. Doran
Phone: +1 (856) 288-2407
sdoran@clarkfoxlaw.com
Biography
John focuses his practice exclusively on representing the London Market in complex litigation and coverage issues. Extremely knowledgeable of the intricacies of the London Market, John manages a team of attorneys who are dedicated to serving this market.
In his practice, John assists clients with regulatory matters as well as a variety of first- and third-party coverage, defense and monitoring issues. His work in this area is diverse and includes issues such as bad faith, personal accident, reinsurance, contingency, catastrophes, arson, fraud, business interruption, boiler and machinery, assault and battery, liquor liability, motor, errors and omissions, and kidnap and ransom.
John gained insider's knowledge of the market through his participation in the Secondee Counsel Program with the Cathedral Managing General Agency at Lloyd's of London. During his involvement in this program, he served as in-house counsel for Cathedral and Company Market Insurers.
Practice Areas
• Insurance & Reinsurance
• Insurance Bad Faith/Extra-Contractual Damages
• Fraud/Arson
• General and Complex Liability
• Life, Health and Disability
• London Practice Group
• Transportation/Cargo
Notable Opinions
• Allegrino v. Conway E & S, Inc., Civ. Act. No. 09-1507, 2010 WL 4052923 (W.D. Pa. Oct. 4, 2010)
• Certain Underwriters at Lloyd's, London Subscribing to Policy LH00016 v. Perez, Docket No. L-1198-07, 2008 WL 1848423 (N.J. Super. Ct. App. Div. Apr. 23, 2008)
Publications
• When Wind and Water Meet, Insider Quarterly
• Depositions of Foreign Party Witnesses, For The Defense
Memberships & Admissions
• New Jersey
• Pennsylvania
• U.S. District Court, District of New Jersey
• U.S. District Court, Eastern District of Pennsylvania
• U.S. District Court, Western District of Pennsylvania
• U.S. Court of Appeals, Third Circuit
Professional Affiliations
• New Jersey Bar Association
• American Bar Association
– Excess Surplus Lines Subcommittee
• British Insurance
• Insurance Council of New Jersey
• Lloyd's Market Association
• National Association of Professional Surplus Lines Offices
• New Jersey Defense Association
• New Jersey Surplus Lines Association
Education
• Temple University School of Law, J.D., 1994, with high honors
• Rutgers University, B.A., 1991, with honors